How To Improve Your Speaking Voice
Learn Speaking Tips & Tricks All-Stars Use
• #1 Vocal Coach in the U.S.
• Over 30 Years of Coaching Experience
• Roger's Students Have Won Grammys
• Has Trained Over 130,043 People
INSTANT ACCESS
To the same vocal techniques
Roger teaches his all-star clients
4 FREE Training Videos
By submitting your email address, you agree to receive emails for this training and special offers. Unsubscribe, anytime.
Is your voice getting you what you want?
Regardless of whether you like or loath it, your ability to influence, inspire and connect with everyone around you depends on your voice.
In my thirty years of coaching celebrities and the not-yet-famous, I've seen voice coaching impact my students:
By increasing their confidence and happiness levels so much that they quit spending thousands of dollars on therapists.
From never feeling listened to or important to finding the voice that made others positively respond and pay attention to them.
Through transforming couples' communications and relationships to go from divorcing to happily married.
Getting them raises, promotions, incredible new opportunities and becoming the face and voice of their corporations.
Launching, improving, and supercharging their public speaking careers.
Transforming them from the "university doormat" into an Ivy League Department Head.
Do you want results like these?
Then you've come to the right place – Learn what Roger Love can do for you!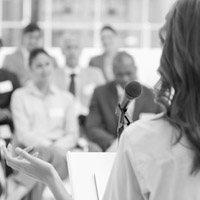 You might not realize it, but your professional success, personal happiness, and satisfaction in life are directly linked to your ability to communicate.
By communicate, we're not just talking about the words you use. According to a scientific study at Stanford University, your words only account for about 7% of whether or not anyone believes you, likes you and thinks you're smart, funny, strong or successful.
By contrast, tonality – the sounds your voice makes aside from the words – counts for more than 38%! When you understand how your physiology and tonality can unite, almost 93% of the incredible powers of communication and influence will be in your hands.
You, too, can become an incredible speaker, presenter, communicator and influencer!
Roger Love's training, mentorship, and personal coaching programs will teach you to master this 93% to your advantage and get you the results you want!
Meet Your
New Voice Coach
Roger Love's exclusive vocal training systems teach you the same tips, secrets and techniques he uses to coach famous and successful speakers, performers and presenters including Anthony Robbins, Brendon Burchard, Jay Abraham, Jeff Bridges, Reese Witherspoon, Tyra Banks, Zoe Saldana, Joaquin Phoenix, Will Ferrell, John Gray and Suze Orman.
Roger also coaches some of the world's most successful entrepreneurs and corporations including Zappos, Quicken Loans and Morgan Stanley.
When it comes to singing, Roger's client list is equally expansive: Selena Gomez, John Mayer, Maroon 5, Gwen Stefani, Demi Lovato, Iggy Pop, The Jonas Brothers, Chicago, Matchbox 20, The Beach Boys, Def Leppard, Brett Michaels, The Killers and The Jacksons have all worked with Roger.
"Roger truly enhanced my performance
in the movie Crazy Heart."
– Jeff Bridges, Actor & Producer
"Thank you for making my
voice sound so beautiful!"
– Reese Witherspoon, Actress
"Thanks to Roger, I never lose my voice anymore.
I am able to give my message to the world.
Roger, I am eternally grateful.
– Dr. Daniel Amen, New York Times Bestselling Author 
Roger Love is the best in his industry. The only time
I lose my voice is when I don't put into practice
the simple exercises that saved my voice and
saved my power that I learned from him.
– Chalene Johnson, Fitness Authority, Author, and Entrepreneur.
I invested in Roger's voice program and
that's when my career really took off. Look
into Roger's voice programs and you too
can accomplish all your life's greatest dreams.
– Dave Anderson, founder of Famous Dave's of America.
"Roger Love has found a way to train the voice and free the heart, mind and spirit."
– John Gray, Author
"It wasn't until I met Roger Love that I gained
100% certainty that my voice would perform
the way I expect and need it to. Learn
from this truly amazing vocal master."
– Tony Robbins, Author and Motivational Speaker
"Saved my Career
"Roger is a magician. I have seen him
change peoples voices and lives in
minutes on stage, he saved my career."
– Brendon Burchard, Author, Speaker
Get 4 Free Voice Training Videos That Reveal How You Can Discover Your Perfect Voice
By submitting your email address, you agree to receive emails for this training and special offers. Unsubscribe, anytime.